Talk about pure fun! It's Poker Pool and it's the hottest new game going! Bring something new to your table for your friends to enjoy. Poker's HOT, HOT, HOT and this game will make you the hot host in your circle! Get it now!

Poker Pool
• Our exclusive Poker Pool balls introduce an exciting variety of new games that combine the physical skill of pool with the mental strategy of cards and can be played on any pool table.

Balls
• 15 Poker Pool balls: Each ball's printed artwork is applied to settle below the surface of
the ball. Patented technology.
• Each ball is marked four times for easy identification.
• Replacement balls are available.

Player Guide
• Color instructions.
• Extra large lettering.
• Quality materials.
• 10 different games for hours of enjoyment: Stud Poker, Draw Poker, Low Ball,
Progressive 31, 21, Zebra, Rummy, 3-Ball Poker, War, Pass-It-On.
• Replacement guides are available.
• Shelves disassemble for easy cleaning.

Score Case
• Polycarbonate shatterproof case with gold trim.
• Leather tote strap.
• Keeps score for easy game (pad and pencil are not needed).
• Versatility: Case can be wall mounted or carried for easy travel.
• Replacement cases are available.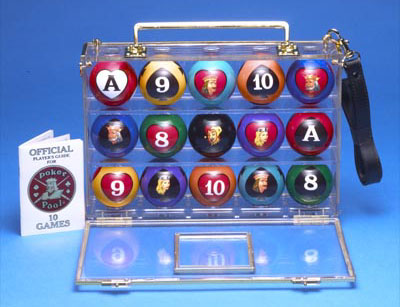 How To Play Poker Pool?

There are 10 games included with your Poker Pool set, each explained in the included rule book. Below, we will demonstrate one of the games so you can truly envision the excitement of Poker Pool.

Stud Poker

• In Stud Poker, the object is to score the highest possible poker hand possible by pocketing 5 balls or less.

• Players can lag or toss a coin to determine their positions in the rotation.

• A player indicates (calls) the object ball and pocket before shooting.

• Players continue shooting in rotation, taking turns after missing a shot.

• Scratched marked balls are spotted at the foot of the table. The Cue Ball is placed on or behind the head string. • Any ball below the head string can be pocketed.

• Players place their pocketed balls in the Score Case, on the shelf that matches their position in the rotation, immediately after completing a turn.

• Players discontinue shooting after pocketing a Five Ball hand.

• A player taking the last turn of the game shoots until pocketing the winning hand, or misses two shots.

• The player with the highest Poker hand (not exceeding five balls), wins the game.

• When the winning hand is pocketed, the game is over.

• Besides Stud Poker, you can also play Draw Poker, 21, 3 Ball Poker, Lowball, Progressive 31, Rummy, Pass It Over, War and Zebra. Complete rules are included in the rule book that comes with your Poker Pool set.