The Goal Light - Canadian Edition
Remember the last time your favorite Canadian team scored? Now you can recreate that excitement anywhere, anytime with The Goal Light! Let the red light flash, the train horn blare when your favorite Canadian team scores. Or hit the remote when you score against your pal in NHL 2012 or to celebrate a goal playing mini hockey in your basement. The Canadian Edition Goal Light comes with these features:
Authentic Goal Horn Sound From

Calgary

, Montreal, Toronto, Edmonton, Ottawa, Vancouver

Sorry Winnipeg, we didn't know in time!
Flashing LED lights

Puck shaped remote control

Wall/Ceiling bracket & hardware

Batteries included

Dimensions are 5" x 5"
See The Goal Light In Action Here

Audio Jack Sound & Light Switch Team Selector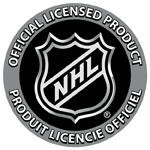 SUGGESTED RETAIL: $69.99 (Plus Shipping)
| | |
| --- | --- |
| * | We do not apply sales tax on US orders |
| ** | Canadian residents add 5% GST |
| *** | Quebec residents also add 9.5% QST |
| **** | Add HST (Varies by province) where applicable |
Copyright © 2011 ABC Billiard Plus All Rights Reserved.